Collaborators, Collectors & Collectives is a reading/performance series by poets who engage in writing and disseminating poetry across multiple disciplines and communities.  Whether as editors, publishers, activists, teachers, multi-media artists, and/or co-collaborators, the featured poets in this series present work that reflects their dynamic engagements in the world.
Thursdays, 6:00 - 7:45 PM
Humanities Lecture Hall
Free and open to the public
January 19, 2012
R. Zamora Linmark
R. Zamora Linmark, born in Manila, is a Filipino American poet, novelist, and playwright. His first, a novel, Rolling the R's was released by Kaya Press in 1995. Linmark then went on to adapt it for the stage, receiving a world premiere production from Kumu Kahua in 2008. Hanging Loose Press published two of Linmark's poetry collections: Prime Time Apparitions (2005) and The Evolution of a Sigh (2008).  
Coffee House Published his his latest novel, Leche, in 2011. 
February 2, 2012
Ben Doller and Sandra Doller
Sandra Doller (née Miller)'s first book Oriflamme was published by Ahsahta Press in 2005. Her second collection Chora was published by Ahsahta in 2010.  Her third book, Man Years is published by Subito Press. Sandra Doller is the founder & editrice of a fancy magazine & press, the curiously named 1913. She teaches at Cal State San Marcos and lives way out west with her man, Ben Doller (né Doyle) and their pup Ronald Johnson.
Ben Doller (né Doyle)'s first book of poems, Radio, Radio, was selected by Susan Howe as winner of the 2000 Walt Whitman Award. His second book, FAQ was published by Ahsahta Press in March 2009, and his third book, Dead Ahead, was released in 2010 by Fence Books. He co-edits the Kuhl House Contemporary Poets series and currently teaches at U.C. San Diego. Wherever he lives, he lives with his lady, Sandra Doller (née Miller) and their boxador, Ronald Johnson.
February 9, 2012
Black Took Collective
Dawn Lundy Martin, Duriel E. Harris, Ronaldo V. Wilson 
Black Took Collective was co-founded in 1999 by Duriel E. Harris, Dawn Lundy Martin and Ronaldo V. Wilson at Cave Canem, a retreat for African American Poets, Black Took Collective is a group of Black post-theorists who perform and write in hybrid experimental forms, embracing radical poetics and cutting-edge critical theory about race, gender, and sexuality. Their manifesto "Call for Dissonance," Black Took Collective appears in FENCE,Fall/Winter 2002 and A Best of Fence Anthology: The First Nine Years (University Press of New England, 2009).  Black Took Collective: Accretion appears in P Que The Journal for the SUNY Poetics Program at University of Buffalo (SUNY Press, 2010.)
Duriel E. Harris, Ph. D., is an assistant professor of English at Illinois State University and a member of Douglas Ewart & Inventions freejazz ensemble, a fellow of the Pan African Literary Forum.  She is the author of Drag (Elixir Press, 2003), and AMNESIAC (Sheep Meadow Press, 2010).
Dawn Lundy Martin, Ph. D., is an assistant professor in the English Department's Writing Program at the University of Pittsburgh. She is the author of the chapbook, The Morning Hour (Poetry Society of America, 2003), A Gathering of Matter / A Matter of Gathering (University of Georgia Press, 2007), and DISCIPLINE (Nightboat Books, 2011).
Ronaldo V. Wilson, Ph.D, is a visiting assistant professor in the Department of Literature at the University of California, Santa Cruz.  He is the author of Narrative of the Life of the Brown Boy and the White Man (University of Pittsburgh Press, 2008), winner of the 2007 Cave Canem Prize, and Poems of the Black Object (Futurepoem Books, 2009), winner of the Thom Gunn Award and the Asian American Literary Award in Poetry in 2010.
February 16
giovanni singleton and Ara Shirinyan
giovanni singleton is founding editor of nocturnes (re)view of the literary arts, a critically acclaimed journal dedicated to experimental work by artists and writers of the African Diaspora and other contested spaces. Counterpath Press will publisher ascension, a collection of poems in 2012.  singleton is currently at work on AMERICAN LETTERS: works on paper, a collection of concrete poems inspired by African American spirit writing, the aboriginal dreamtime, Tibetan meditation practice, and the study of Japanese language and calligraphy.
Ara Shirinyan lives in Los 
Angeles, where he writes and is editor of Make Now Press. He is the author of two books of poetry, Syria Is in the World ( Palm Press, 2007) and Your Country is Great (Futurepoem Books, 2008).  With Stan Apps and Teresa Carmody, he co-curates The Last Sunday Reading Series at the 
Smell in Los Angeles (an all ages punk/art rock club that he helped 
co-found in 1997 and briefly ran for a year). His work has appeared 
or is forthcoming in Word Ways, UBUWEB, Greetings, Trepan, Combo, Area Sneaks, Tuli & Savu among others.
February 23
Garrett Hongo
Garrett Hongo is currently Professor of Creative Writing at the University of Oregon at Eugene, where he directed the Program in Creative Writing from 1989 to 1993. His collections of poetry include Coral Road: Poems(Alfred A. Knopf, 2011); The River of Heaven (1988), which was the Lamont Poetry Selection of The Academy of American Poets and a finalist for the Pulitzer Prize, and Yellow Light (1982). He is also the author of Volcano: A Memoir of Hawai'i (1995), and he has edited Songs My Mother Taught Me: Stories, Plays and Memoir by Wakako Yamauchi (1994) and The Open Boat: Poems from Asian America (1993).
March 15
Professor Keorapetse Kgositsile
c/o Prof. Jeff Allen
Keorapetse William Kgositsile is a South African poet and political activist, and was an influential member of the African National Congress in the 1960s and 1970s. He lived in exile in the United States from 1962 until 1975, the peak of his literary career. Kgositsile made extensive study of African-American literature and culture, becoming particularly interested in jazz. During the 1970s he was a central figure among African-American poets, encouraging interest in Africa as well as the practice of poetry as a performance art; Kgositsile was known for his readings in New York City jazz clubs. He was one of the first to bridge the gap between African poetry and Black poetry in the United States, and thus one of the first and most significant poets in the Pan-African movement.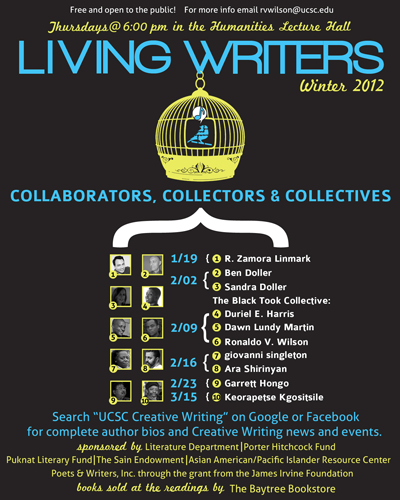 The Living Writers Reading Series is co-sponsored by the Siegfried B. & Elisabeth Mignon Puknat Literary Studies Endowment, Porter College George Hitchcock Poetry Fund, Poets & Writers through the grant from the James Irvine Foundation, Asian American/Pacific Islander Resource Center, Laurie Sain Creative Writing Endowment, Literature Department and the Creative Writing Program.