Thursdays, 6:00 - 7:45 PM
Humanities Lecture Hall
Free and open to the public
April 5
Hector Tobar is a novelist, a journalist, and a proud native of the city of Los Angeles. Some of his work includes: Translation Nation, The Tattooed Soldier, and The Barbarian Nurseries.

April 12
Meena Alexander was born in Allahabad, India, and was raised there and in Sudan. At eighteen she went to study in England. She is Distinguished Professor of English at the City University of New York, and teaches in the MFA program at Hunter College and the Ph.D.Program at the Graduate Center.

April 19
Laleh Khadivi emigrated to the United States with her family from Iran, settling in the San Francisco Bay Area. She graduated from Reed College and from Mills College with an MFA. In 2002 she began to research the Kurds, particularly their fate in the southwestern region of Iran under the first Shah. Her works include: The Age of Orphans, McClelland & Stewart, 2009; A Map to the Dead, Mills College, 2006; and a documentary film 900 Women, Gabriel Films, 2001. She has won several awards including: the Emory Fiction Fellowship, the Carl Djerassi Fellowship, and the 2008 Whiting Writers' Award.

April 26
Nalo Hopkinson is a Jamaican science fiction and fantasy writer and editor who lives in Canada. Her novels, Brown Girl in the Ring, Midnight Robber, The Salt Roads, The New Moon's Arms, and short stories such as those in her collection Skin Folk often draw on Caribbean history and language, and its traditions of oral and written storytelling. Hopkinson has edited two fiction anthologies: Whispers From the Cotton Tree Root: Caribbean Fabulist Fiction and Mojo: Conjure Stories. She was the co-editor with Uppinder Mehan for the anthology So Long Been Dreaming: Postcolonial Visions of the Future, and with Geoff Ryman for Tesseracts 9. Her book Brown Girl in the Ring was nominated for the Philip K. Dick Award in 1998, and received the Locus Award for Best New Writer. In 2008 Brown Girl in the Ring was a finalist in Canada Reads, produced by the Canadian Broadcasting Corporation.

May 3
Steven Okazaki (born Steven Toll Okazaki March 12, 1952 in Venice, California) is an American filmmaker. He is Sansei Japanese American (3rd generation) and is based in the San Francisco Bay Area. He has received a Peabody Award and been nominated for four Academy Awards, winning an Oscar for the documentary short subject, Days of Waiting: The Life & Art of Estelle Ishigo (1990).

May 10
Natalie Handal is an award-winning poet, playwright, and editor. She has lived in Europe, the United States, the Caribbean, Latin America and the Arab world. Her poetry collections include: The Neverfield, The Lives of Rain, shortlisted for The Agnes Lynch Starret Poetry Prize and the recipient of the Menada Literary Award, and Love and Strange Horses, University of Pittsburgh Press, 2010, winner of the Gold Medal Independent Publisher Book Award 2011, and an Honorable Mention at the San Francisco Book Festival and the New England Book Festival. The New York Times says it is "a book that trembles with belonging (and longing)." She is a Lannan Foundation Fellow, a Fundación Araguaney Fellow, recipient of the Alejo Zuloaga Order in Literature 2011, the AE Ventures Fellowship, an Honored Finalist for the 2009 Gift of Freedom Award, and was shortlisted for New London Writers Awards and The Arts Council of England Writers Awards. Handal was listed as one of the "100 Most Powerful Arab Women 2011" in a Special Report by ArabianBusiness.com. Pulitzer Prize winner Yusef Komunyakaa writes: "This cosmopolitan voice belongs to the human family, and it luxuriates in crossing necessary borders." Her new collection, Poet in Andalucía, is forthcoming in Spring 2012.

May 17
Tom Marshall & Rusty Morrison Having survived residence in 4 states and 1 province, 20 towns & cities, 23 jobs, 3 families, and 15 schools, Marshall has slipped the noose of his handful of chapbooks and for now settled into a fresh way of making his poetry: free and green in blogbooks online. Impressed by the productive tensions between vocabularies in leading arts like dance, he has let pictures into his poems. This began with a chuckle at Facebook and the form it offered with its way for posting a photo and saying something about it. His work still gets picked up by magazines, but they too are drifting into the ether to find new formats. Teaching at many institutions (Cabrillo College for the last 22 years) has taught him about ineffable effect, and politics have turned him away from object production. Marshall is a product of his times, here and there on the web, but not a commodity.
Rusty Morrison is an American poet and publisher. She received a BA in English from Mills College in Oakland, California, an MFA in Creative Writing (Poetry) from Saint Mary's College in Moraga, California, and an MA in Education from California State University, San Francisco. She has taught in the MFA program at the University of San Francisco, and was Poet in Residence at Saint Mary's College in 2009. She has also served as a visiting poet at a number of colleges and universities, including the University of Redlands, Redlands, California; University of Arizona, Tucson, Arizona; Boise State University, Boise, Idaho; Marylhurst University, Marylhurst, Oregon, and Millikin University, Decatur, Illinois. In 2001, Morrison and her husband, Ken Keegan, founded Omnidawn Publishing in Richmond, California and continue to work as co-publishers.

May 24
Justin Chin was born in Malaysia, raised & educated in Singapore, shipped to the U.S. by way of Hawaii, and now living in San Francisco. Author of 3 books of poetry, all published by Manic D Press: Bite Hard (1997); Harmless Medicine (2001), a finalist in the Bay Area Book Reviewers Association Awards; and, Gutted (2006), which received the 2007 Thom Gunn Award for Gay Poetry by the Publishing Triangle. Squeezed in between these were 2 non-fictions: Mongrel: Essays, Diatribes & Pranks (St. Martins, 1999), and the ur-memoir, Burden of Ashes (Alyson Publications, 2002).

May 31
Lysley Tenorio is a Filipino-American short story writer. Lysley Tenorio's stories have appeared in The Atlantic, Zoetrope: All-Story, Ploughshares, Manoa, and The Best New American Voices and Pushcart Prize anthologies. A Whiting Writer's Award winner and a former Stegner Fellow at Stanford University, he has received fellowships from the University of Wisconsin, Phillips Exeter Academy, Yaddo, The MacDowell Colony, and the National Endowment for the Arts. Tenorio currently lives in San Francisco, and is an associate professor at Saint Mary's College of California.

June 7
Student Reading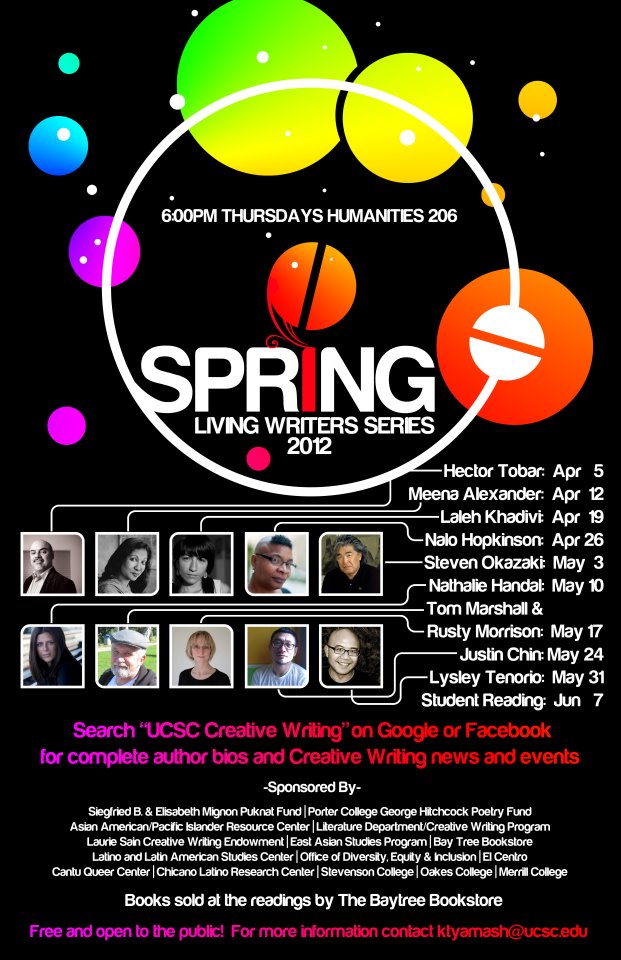 The Living Writers Reading Series is sponsored by the Siegfried B. & Elisabeth Mignon Puknat Fund, Porter College George Hitchcock Poetry Fund, Asian American/Pacific Islander Resource Center, Literature Department/Creative Writing Program, Laurie Sain Creative Writing Endowment, East Asian Studies Program, Bay Tree Bookstore, Latino and Latin American Studies Center, Office of Diversity, Equity & Inclusion, El Centro, Cantu Queer Center, Chicano Latino Research Center, Stevenson College, Oakes College, and Merrill College.
Books are sold at the readings by The Bay Tree Bookstore.